Clark Memorial Library
Established 1927
39 N. Ninth Street in the Clarkdale town center • (928) 634-5423
Open Monday–Thursday 1 pm–5:30 pm and Friday 8 am–12 noon
Jeff King, Coordinator
CURRENT & UPCOMING EVENTS & PROGRAMS
REGULAR FEATURES
Computers, Wi-Fi,
Print/Copy/FAX,
Notary Public,
Bookstore,
Meeting room,
Games & puzzles,
276 digital periodicals,
Magazines & newspapers,
E-books & audiobooks,
DVD & Blu-ray videos,
plus an ever-expanding
book selection!
YAVAPAI LIBRARY NETWORK
Select from more than 1.3 million items. Place a hold on your choices. Pick them up at CML…
October 19, 2017, 2:24 pm…
"snip!"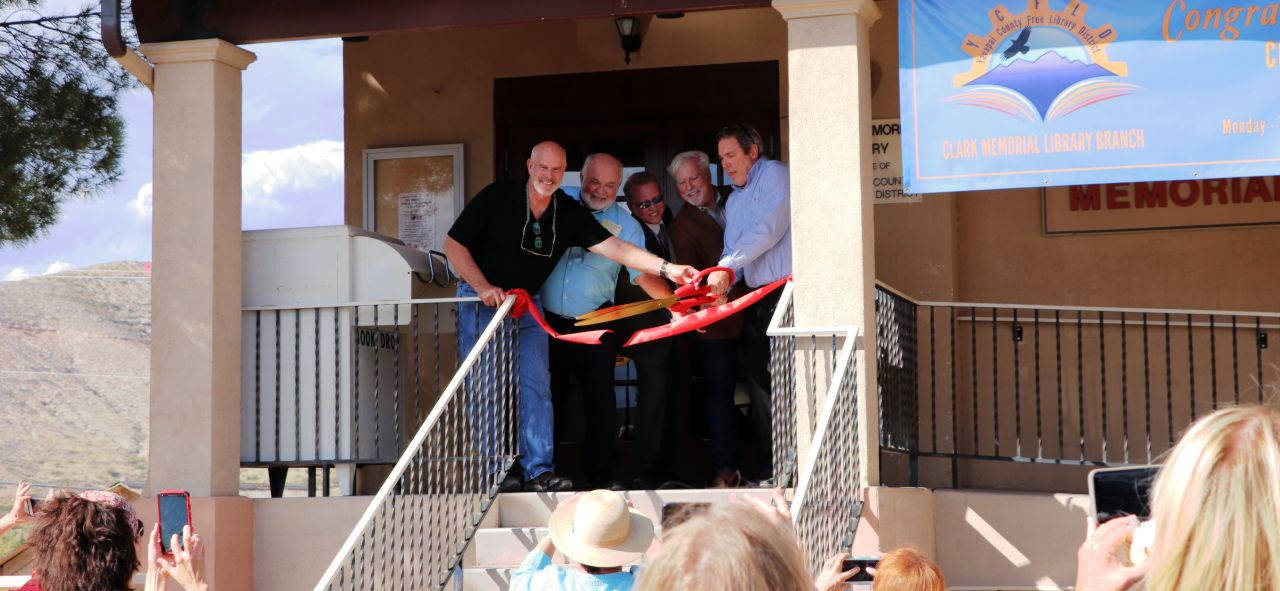 Much has been accomplished since the ribbon was cut at Clark Memorial Library's 90th Birthday Grand Re-opening Celebration.
Transition from a historic Clarkdale Town Library to a historic Yavapai County Free Library District Branch Library went without a hitch (three cheers for Third District Supervisor Randy Garrison, YCFLD Director Corey Christians, Assistant Library Director & County Librarian Susan Lapis, the District's staff, Clarkdale Town Manager Gayle Mabery, and all the Town staff who aided in the seamless transfer!).
Jeff King, CML's new Library Coordinator, has restored and introduced features requested by patrons:
Newspapers and magazines to peruse in-library

CML's antique, solid oak magazine rack was located and restored to the library. You'll now find it filled with current issues of The New York Times, The Wall Street Journal, The Arizona Republic, and The Verde Independent, as well as National Geographic's History magazine, The Atlantic, AARP, Smithsonian, Mother Jones, and WebMD, plus various issues of magazines donors thought might be of interest, such as Arizona Highways, Country Gardens, The New Yorker, and Sunset Magazine.

More powerful state-of-the-art computers

Equipped with Full HD monitors and MS Office productivity software.

Seed bank and crafts materials dispensary

The Clarkdale Historical Society returned this beautiful antique card catalog to CML, where it belongs. Jeff is now looking for the right volunteer to stock it with seeds patrons can check out, plant, harvest, and share back—and with craft supplies for use in the library. Could you be the one? Talk to Jeff.

Transfer vinyl recordings to CD format

CML patrons can now back-up their irreplaceable vinyl records free of charge.

Notary Public

Patrons can now have documents notarized without charge.

New print and video on the shelves

Plenty of DVDs and Blu-rays—come see what's new. Let Jeff know what you would like to see added.

Summer Reading Program

Current program features paleontology and archaeology. It's a hands-on program designed primarily for grades 3–5 students, with activities, crafts, and speakers. Scheduled Wednesdays from 8 am until noon, June 6 through July 25 (excepting July 4). Click here to download a flyer/sign-up form..
Plus…
Art at The Clark
Displayed throughout the library, our local artist exhibitions didn't miss a beat. Thanks to Mary Liggit, Clarkdale fabric artist and founding friend of FCML, they resumed shortly after the CML's re-opening. The current season schedule is in the Library section.
Friends of Clark Memorial Library
CML now has an independent library support group, dedicated to raising funds for materials acquisitions and in-library programs, facilitating capital improvement projects, and promoting CML's services to the community. Click here to learn what library-loving volunteers have accomplished to date, what's coming up, and how you can join the crusade to make CML an even more valuable community asset.
Friends Bookstore
Up and selling in time for New Years, our bookstore offers patrons a wide selection of previously read titles—some like new, some signed by the author, some collectors' items at bargain prices. Click here to see how much creative volunteers could fit into such a tiny space, and how you can access the 5,000+ titles that didn't fit.
Speaking of those 5,000 titles, the Bookstore also holds special sales, where you can browse books not currently displayed in the Bookstore. Click here for upcoming sales info.
More to come
Programs and events for school kids and adults are in the planning stage, along with support for local book and video clubs.
Check back here regularly to see what's happening at Clark Memorial Library!