Clark Memorial Library
Established 1927
39 N. Ninth Street in the Clarkdale town center • (928) 634-5423
Open Monday–Thursday 1–5:30 pm and Friday 8 am–12 noon
Kinney Anderson & Mary
Kuzell-Babbitt, Coordinators
CURRENT & UPCOMING EVENTS & PROGRAMS
REGULAR FEATURES
Computers, Wi-Fi, Print/Copy/FAX, Notary Public, Bookstore, Meeting room, Games & puzzles, 276 digital periodicals, Magazines & newspapers, E-books & audiobooks, plus an ever‑expanding selection of in‑library videos and books!
YAVAPAI LIBRARY NETWORK
Select from more than 1.3 million items.
Place a hold on your choices.
Pick them up at CML…
What's happening…
FCML's official website is online
This website was created by the SaveCML Squad to support Clark Memorial Library and its Friends group, but is independent of both. Friends of Clark Memorial Library subsequently launched their own website at www.friendsofcml.org, designed and managed by Nick of Time Productions under the auspices of the FCML board. Most of the content on this site was copied to the FCML site, and news and information regarding CML and FCML is now being published there. The only page currently being updated on this site is Art in the Clark.
Community Outreach Appreciation Time
Clark Memorial Library's successful reopening is always cause for celebration. So it's time to thank the volunteers who continued to expand awareness of the benefits offered by our unique community asset—particularly through promotion of the 2017/18 Art in the Clark project.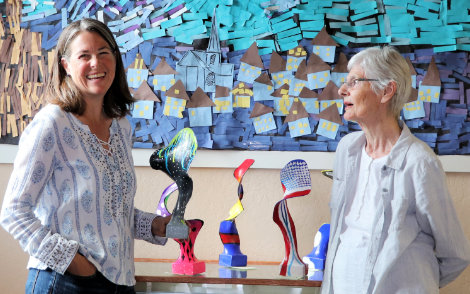 Mary Liggit, Clarkdale artist and one of the tenacious ten who put their backs into helping CML reopen, planned and manages Art in the Clark. This project not only kept Clarkdale's arts community involved and our library lively all last year; ever-changing exhibits gave other volunteers the opportunity to promote CML. (Click here for 2018/19 Season.)
Carol Cain, CML patron and long-time Clarkdale volunteer, took posters for each exhibit to the many civic and church organizations in which she's involved, as well as keeping C-JSD, C-OCSD, and MUHS informed.
Kathy Ivey, CML patron, took on the 89-A corridor, visiting every business and retirement community from Phoenix Cement to Yavapai College with materials and boundless enthusiasm for what's happening at the Clark.
Patrons Zana Dirksen, Therese Hearn, Cynthia Mala, Henry Melody, David Perrell, John Sherman, and Ruth Wicks each distributed materials to locations convenient to them, lightly but personally covering the Verde Valley.
(As a bonus, Kathy's enthusiasm motivated Alice Pulido, Manager of the Dollar General at 89-A and Lisa St, to donate holiday decorations and to urge FCML to apply for a Dollar General grant. This ultimately resulted in a $2,000 donation for literacy programs. Library lovers wishing to return the good will can thank Ms Pulido by going to the DGCustomerFirst.com website after making a purchase at her store, entering the code numbers on their receipt, and clicking "highly satisfied.")
This is synergy!
Ongoing…
Art exhibits in the library have drawn much appreciation. Visit the Art in the Clark page for the season schedule and sample images, then come to 'The Clark' and admire the craft and creativity in person.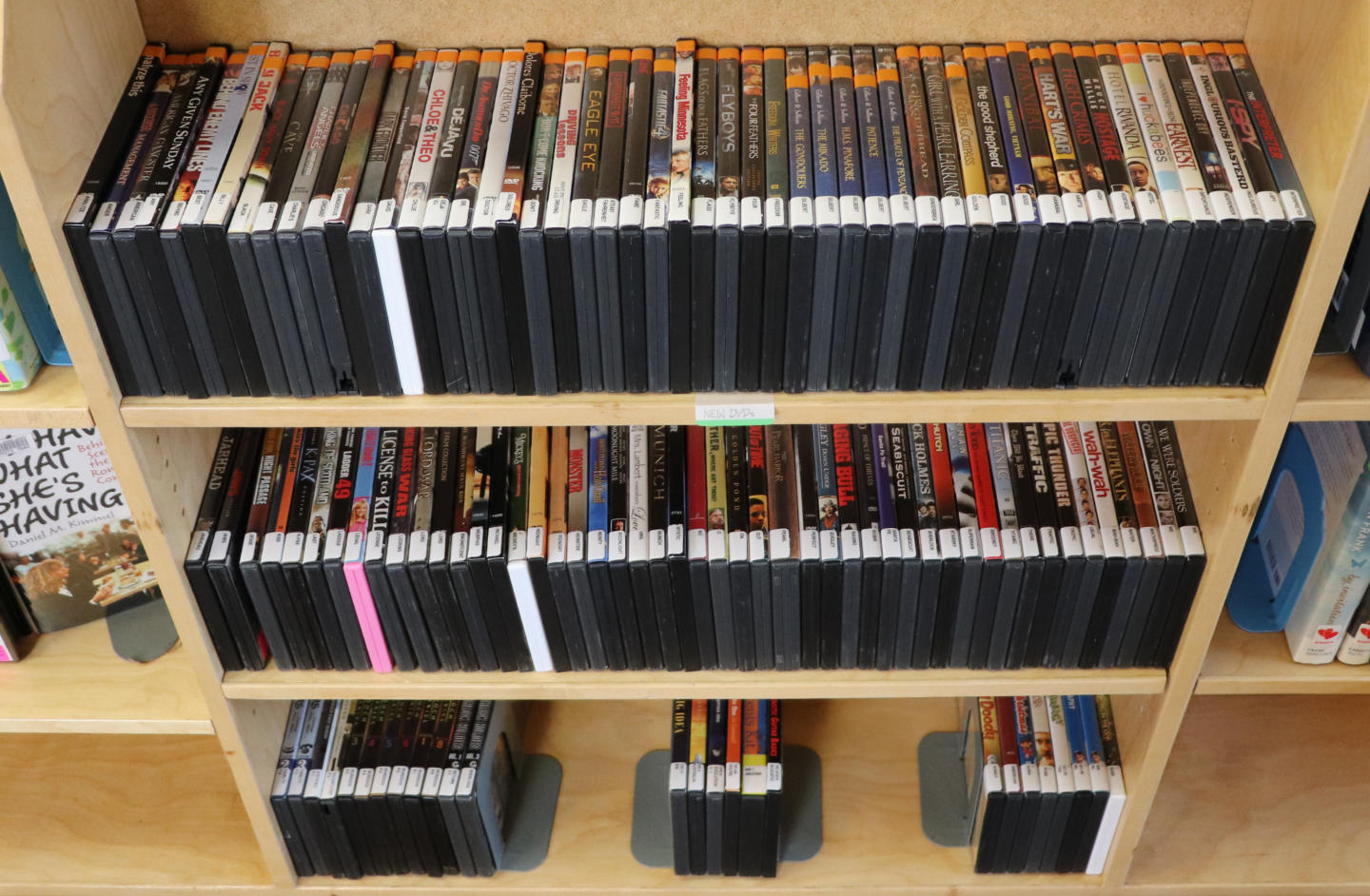 Clark Memorial Library's financial support from its Friends group is apparent in the abundant new videos and books on the "new items" shelves in front of the check-out counter. More of both arrive regularly. Come on in and check them out!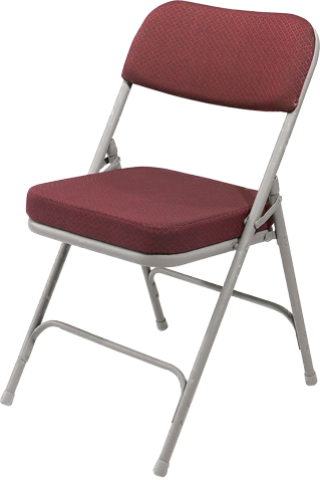 Friends have also provided 6 new padded chairs in the meeting room, for a total of 10. Groups seeking a pleasant place to hold meetings will find it here.
Get involved with CML
Clark Memorial Library is offering more services to the community, but suggestions for improvement and offers of assistance are always welcome. Talk to the Library Coordinator.

Just
365

days ago…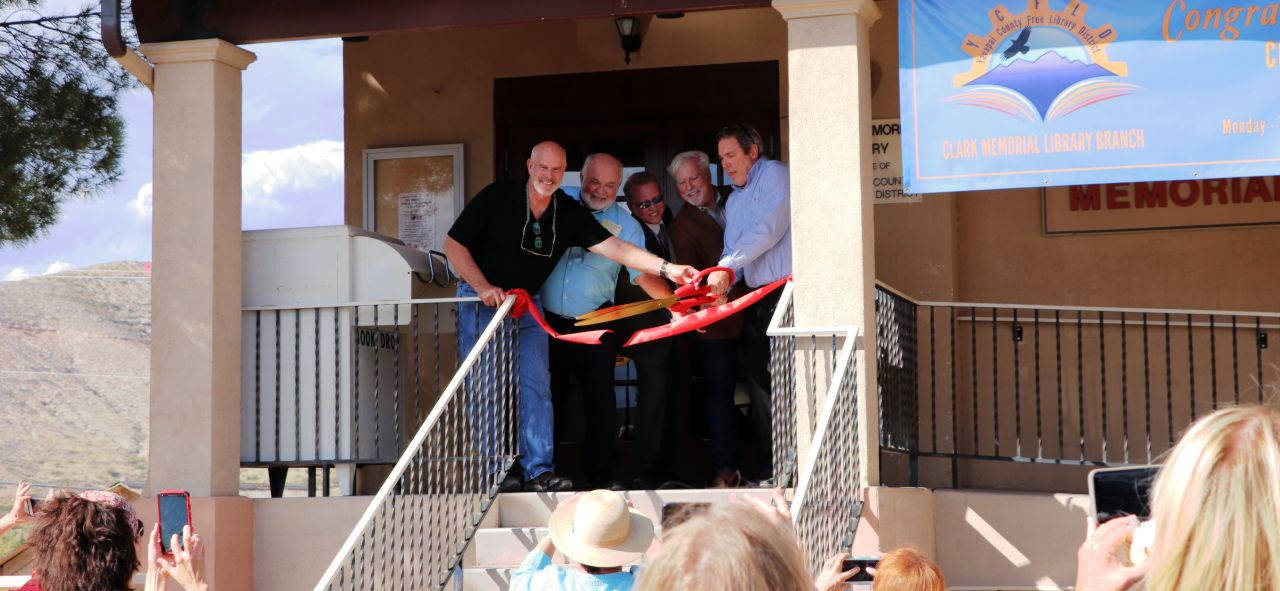 Much has been accomplished since the ribbon was cut at Clark Memorial Library's 90th Birthday Grand Re-opening Celebration.
Transition from a historic Clarkdale Town Library to a historic Yavapai County Free Library District Branch Library went without a hitch (three cheers for Third District Supervisor Randy Garrison, YCFLD Director Corey Christians, Assistant Library Director & County Librarian Susan Lapis, the District's staff, Clarkdale Town Manager Gayle Mabery, and all the Town staff who aided in the seamless transfer!).
Features requested by patrons have been restored and introduced:
Newspapers and magazines to peruse in-library

CML's antique, solid oak magazine rack was located and restored to the library. You'll now find it filled with current issues of The New York Times, The Wall Street Journal, The Arizona Republic, and The Verde Independent, as well as National Geographic's History magazine, The Atlantic, AARP, Smithsonian, Mother Jones, and WebMD, plus various issues of magazines donors thought might be of interest, such as Arizona Highways, Country Gardens, The New Yorker, and Sunset Magazine.

More powerful state-of-the-art computers

Equipped with Full HD monitors and MS Office productivity software.

Seed bank and crafts materials dispensary

The Clarkdale Historical Society returned this beautiful antique card catalog to CML, where it belongs. It now needs a volunteer horticulturist to stock it with seeds patrons can check out, plant, harvest, and share. Could you be the one? Talk to the Library Coordinator.

Notary Public

Patrons can now have documents notarized without charge.

New books and DVD/Blu-ray videos

A growing selection, with the most recent arrivals on the shelves in front of the check-out counter. Tell the Library Coordinator if there is something missing you would like to see.

Summer Reading & Continuing Education Programs

Intended for students in grades 3–5, the 2018 Summer Reading pilot program featured geology, paleontology and archaeology reading assignments augmented with demonstrations and activities. Future programs will be designed to make continuing education fun for patrons of all ages.
More to come
Programs and events for school kids and adults are in the planning stage, along with support for local book and video clubs.
Check back here regularly to see what's happening at Clark Memorial Library!