Looking for the info/sign-up PDF for the kids' Archaeology/Paleontology program? Click here.

2017/18 SEASON SCHEDULE
December – January: 
Mingus Union High School Photography
February 1 – March 30: 
Verde Valley Weavers and Spinners Guild
April 2 – April 30: 
Clarkdale-Jerome School Artistry
May 3 – June 29: 
'Intertwined'— art of basketry

July 2 – August 31: 
Sallie Parke Cross, eclectic painter
September 4 – October 1: 
Michael Bolen, ceramic artist
New program title…long standing tradition…the 2018 Art at The Clark season of exhibitions by local artists has been arranged by Mary Liggit, a Founding Friend of Friends of Clark Memorial Library, Inc., in conjunction with CML's new Library Coordinator, Jeffrey King.
All exhibits will be on view at the Clark Memorial Library in the Clarkdale civic center, 39 N. 9th Street, during normal library hours—Monday through Thursday from 1:00 to 5:30 pm and Friday from 8:00 am to noon.
For further information, call Library Coordinator Jeff King at (928) 634-5423 or email Friends@ClarkMemorialLibrary.org.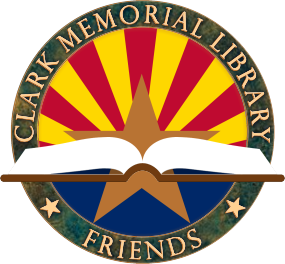 Friends of Clark Memorial Library is an all-volunteer 501(c)(3) Arizona non-profit corporation dedicated to the financial support of Clark Memorial Library.