Thursday, October 19—
Clark Memorial Library
Grand Re-Opening & 3-Day Book Sale!
DAY 1
Thursday from 10 am until 8 pm in the Clark Memorial Clubhouse Auditorium
Seeing is believing. Thanks to generous book donors throughout the Verde Valley, only the Clubhouse Auditorium is big enough for our Grand Re-opening Book Sale.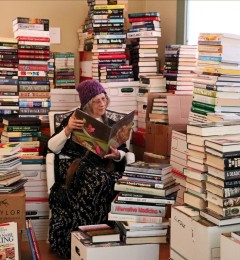 Piled up beside her and toppled to the skies, were the books of a king's son, just your size.
(With apologies to Edna St. Vincent Millay)
Serious book lovers will need more than 10 hours to browse well over 6,500 quality books spanning a multitude of genres. Plus vintage record albums and magazine collections, DVDs, CDs, Audio Books, and VHS tapes.
We have gorgeous, like new, aeronautics, anthropology, architecture, art, astronomy, bees, birds, cars, cats, cooking, crafts, decorating, dogs, ecology, flowers, gardening, geographical wonders, health, historical events, horses, investment, jurisprudence, kayaking, landscaping, motorcycles, natural history, opera, philosophy, photography, religion, rocks, ships, sports, spirits, travel, volcanos, war, woodworking, xeriscape, and zoology books. And far, far more in the fiction categories.
Something for every reader, all at library bookstore prices.
The Grand Re-Opening Ceremony will be from 1 pm to 3 pm, beginning in the auditorium and ending with a ribbon cutting at the library.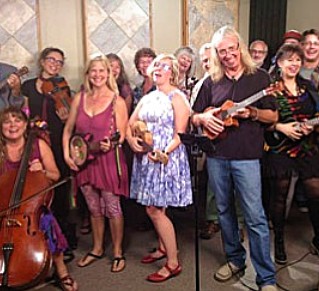 The exuberant Jerome Ukulele Orchestra!
Meet and greet CML's new Library Coordinator, Jeff King.
Enjoy the swinging Jerome Ukulele Orchestra throughout the festivities.
Immerse yourself in the stirring vocals of the Mingus Union Honors Choir.
Indulge in birthday cake and ice cream.
(October 19 is Clark Memorial Library's 90th Birthday!)
Meet the Author begins at 4 pm, with Clarkdale writer and artist Ann Metlay presenting "Magic of Libraries."
DAY 2
Friday from 10 am until 6 pm in the Clark Memorial Library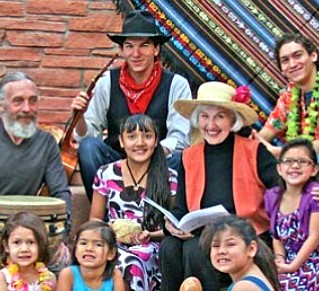 Cynthia Strom instills the joy of musicBook lovers will find a whole new selection of titles that we couldn't display in the auditorium on sale in the new FCML Bookstore.
At 10 am, CML will see its first Pre-school Storytime in many a long year.
At 3 pm, Clarkdale's music maven Cynthia Strom will lead one of her joyous "Fun with Music, Movement, and Rhythm Instruments." As Ms Cynthia says, "We'll sing, dance, do a hand jive, play some rhythm instruments, learn, and have some fun together!!"
DAY 3
Saturday from 10 am until 6 pm in the Clark Memorial Library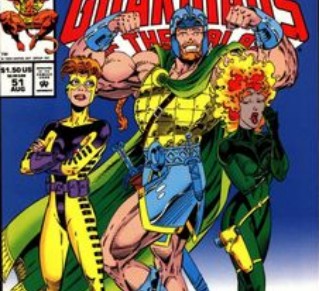 Gallagher's Guardians of the Galaxy!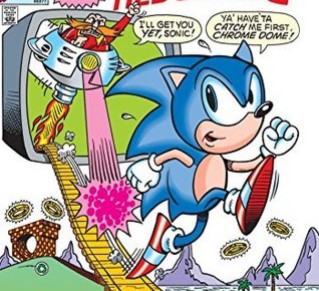 Sonic the Hedgehog!You'll find even more books on display in the FCML Bookstore, maybe, if Verde Valley book lovers didn't force us to put out the cartons we were holding in reserve for Saturday shoppers.
At 10 am, internationally acclaimed cartoonist Michael Gallagher will debut his age-integrated cartooning workshop, "KIDS CREATE CARTOONS & COMICS," a free cartooning lesson for children of all ages created especially for CML's grand re-opening.
Don't miss this once-in-a-lifetime event. Check this page regularly for event updates and email Friends@ClarkMemorialLibrary.org if you want to be inside the action.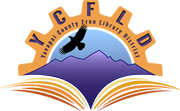 Made possible through the partnership of the Yavapai County Free Library District, Town of Clarkdale, and Friends of Clark Memorial Library.
Friends of Clark Memorial Library is a 501(c)(3) Arizona non-profit corporation comprised entirely of volunteers. The Friends are tasked with funding materials and programs for the library, which is now being managed by the YCFLD. To help make CML the best it can be,